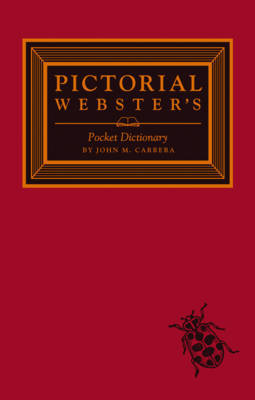 $25.00
NZD
Category: Dictionary
A miniature version of the successful Pictorial Webster's, this pocket-sized volume features an abridged selection of gems from the larger edition, curated again by fine-press bookmaker John M. Carrera.
$93.00
NZD
Category: Dictionary | Series: Oxford Companions
The Oxford Companion to English Literature has long been established as the leading reference resource for students, teachers, scholars, and general readers of English literature. It provides unrivalled coverage of all aspects of English literature - from writers, their works, and the historical and cul tural context in which they wrote, to critics, literary theory, and allusions. For the seventh edition, the Companion has been thoroughly revised and updated to meet the needs and concerns of today's students and general readers. Over 1,000 new entries have been added, ranging from new writers - Chimamanda Ngozi Adichie, Patrick Marber, David Mitchell, Arundhati Roy - to increased coverage of writers and literary movements from around the world. Coverage of American literature has been substantially increased, with new entries on writers such as Cormac McCarthy and Amy Tan and on movements and publications. Contextual and historical coverage has also been expanded, with new entries on European history and culture, post-colonial literature, as well as writers and literary movements from around the world that have influenced English literature. The Companion has always been a quick and dependable source of reference for students, and the new edition confirms its pre-eminent role as the go-to resource of first choice. All entries have been reviewed, and details of new works, biographies, and criticism have been brought right up to date. So also has coverage of the themes, approaches and concepts encountered by students today, from terms to articles on literary theory and theorists. There is increased coverage of writers from around the world, as well as from Ireland, Scotland, and Wales, and of contextual topics, including film and television, music, and art. Cross-referencing has been thoroughly updated, with stronger linking from writers to thematic and conceptual entries. Meanwhile coverage of popular genres such as children's literature, science fiction, biography, reportage, crime fiction, fantasy or travel literature has been increased substantially, with new entries on writers from Philip Pullman to Anne Frank and from Anais Nin to Douglas Adams. The seventh edition of this classic Companion - now under the editorship of Dinah Birch, assisted by a team of 28 distinguished associate editors, and over 150 contributors - ensures that it retains its status as the most authoritative, informative, and accessible guide to literature available. ...Show more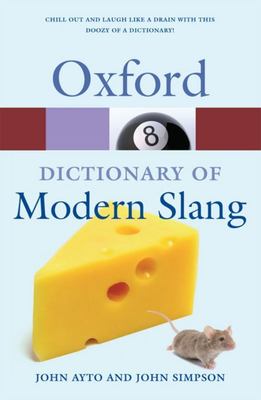 $34.00
NZD
Category: Dictionary | Series: Oxford Paperback Reference
Drawing on the unique resources of the Oxford English Dictionary and offering coverage of over 6,000 slang words and expressions from the Cockney 'abaht' to the American term 'zowie', this is the most authoritative dictionary of slang from the 20th and 21st centuries. The Oxford Dictionary of Modern Sla ng is a fascinating and entertaining collection, packed with illustrative quotations and providing full details of origins and dates of first printed use. The text contains expressions from around the English-speaking world such as 'dork' and 'cockamamie' (North America) and 'giggle-house' and 'Jimmy Woodser' (Australia). As well as the A-Z listing of terms, the book contains a comprehensive thematic index, enabling users to home in on particular areas of interest, such as the body, food and drink, and human behaviour. Full of surprises, this is an essential read for word lovers and anyone with an interest in language. ...Show more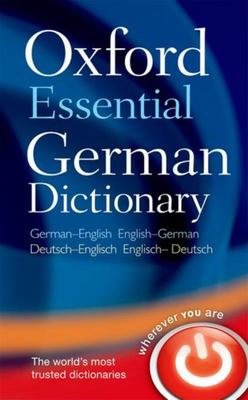 $20.00
NZD
Category: Dictionary
The Oxford Essential German Dictionary is a new compact German-English and English-German dictionary that offers up-to-date coverage of all the essential day-to-day vocabulary with over 40,000 words and phrases and 60,000 translations. This dictionary is easy to use and ideal for travel, work, or study. The latest words in each language have been added, reflecting all aspects of life today, from computing and technology to lifestyle and business. Additional features include guides to German and English pronunciation, as well as help with both German and English verbs. The Oxford Essential German Dictionary is ideal for anyone in need of a handy quick reference. An essential book for the study of German. ...Show more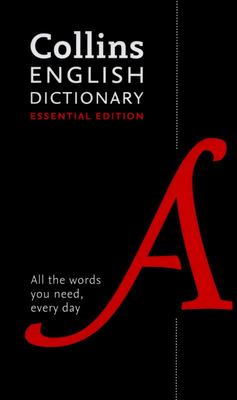 $33.00
NZD
Category: Dictionary | Series: Collins Essential Editions Ser.
All the words you need, every day: the perfect dictionary reference for daily use, including all the words, phrases and definitions you need in a durable format. Language notes help you choose the right word and the easy-to-use layout allows you to find what you're looking for quickly. Specially tailore d to meet your needs at home, school, and in the office, the Collins English Dictionary has comprehensive definitions and word tips to provide help with English usage. With this dictionary you can find all the words and definitions you need, as it boasts a comprehensive coverage of the language we use every day. It also contains the latest words to enter the language. The clear layout ensures you can find the words you need quickly. This edition contains an invaluable supplement on the most common mistakes and controversial issues in English. 200,000 words, meanings, and phrases ...Show more
$22.00
NZD
Category: Dictionary | Series: Collins Essential Ser.
The perfect word reference for daily use. With practical usage notes, and a fantastic supplement, this is the ideal thesaurus to take your language use and knowledge further. 300,000 synonyms and antonyms. Specially tailored to meet the needs of the user at home, school, or in the office, with all the w ords and alternatives you might need, as well as a huge choice of opposites. This thesaurus is based on the Collins Corpus, a 4.5-billion-word database of today's English. The clear, accessible layout makes the thesaurus easy to use and ensures users can find the language they need when they need it. Includes a 16-page crosswords supplement. ...Show more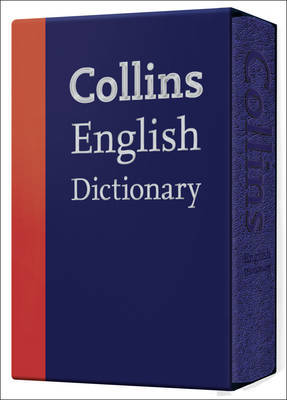 $25.00
NZD
Category: Dictionary | Series: Collins GEM
The perfect stocking filler for the language lover!Collins Gem English Dictionary is the world's best-selling small dictionary. With its clear definitions, spelling and grammar tips, and a supplement of words and phrases from Shakespeare, this handy dictionary is the ideal portable companion. This gift edition of the Gem English Dictionary gives you practical, applied knowledge in your pocket. It contains clear definitions for all the words you need on a daily basis and provides help with spelling and difficult pronunciation. The clear layout makes the content easily accessible and suitable for everyday use. Its attractive binding and slipcase, along with a supplement of words and phrases from William Shakespeare, makes this the ideal present for all language lovers. ...Show more
$23.00
NZD
Category: Dictionary | Series: Collins Pocket Ser.
A modern Italian Dictionary offering excellent coverage of today's Italian language, culture and usage. Clear presentation and colour make it easy to use and its handy format and durability make it your ideal companion at home, school or on your travels. Features include: * The most up-to-date words in both languages from a wide range of areas. * Full GCSE coverage, to give students exam confidence * An in-depth "Italian in Focus" supplement containing information about Italian language and culture to enhance your learning * An "Italian verb tables" supplement which features the most common irregular verbs and examples of verbs in use Whether you're on business, holiday or just learning Italian at your own pace, this dictionary is designed to give you all the information you need in a handy yet robust format. It includes all the latest words as well as features you would expect from a Collins dictionary: an easy-to-read colour layout, special treatment of "key words", notes about life in Italy, and warnings on common errors and false friends. The "Italian in Focus" supplement helps you to develop your knowledge and confidence in the language, with a section on common translation difficulties to be aware of. There is information on pronunciation and improving your fluency, as well as on how to use Italian in different situations, like sending an email or making a phone call. The supplement also gives you an insight into Italian life. 40,000 words and phrases, 60,000 translations ...Show more
$23.00
NZD
Category: Dictionary | Series: Collins Pocket
A modern Spanish Dictionary offering excellent coverage of today's Spanish language, culture and usage. Clear presentation and colour make it easy to use and its handy format and durability make it your ideal companion at home, school or on your travels. Features include: * The most up-to-date words in both languages from a wide range of areas. * Full GCSE coverage, to give students exam confidence * An in-depth "Spanish in Focus" supplement containing information about Spanish language and culture to enhance your learning * A "Spanish verb tables" supplement which features the most common irregular verbs and examples of verbs in use Whether you're on business, holiday or just learning Spanish at your own pace, this dictionary is designed to give you all the information you need in a handy yet robust format. It includes all the latest words as well as features you would expect from a Collins dictionary: an easy-to-read colour layout, special treatment of "key words", notes about life in Spanish-speaking countries, and warnings on common errors and false friends. The "Spanish in Focus" supplement helps you to develop your knowledge and confidence in the language, with a section on common translation difficulties to be aware of. There is information on pronunciation and improving your fluency, as well as on how to use Spanish in different situations, like sending an email or making a phone call. The supplement also gives you an insight into Spanish life. 40,000 words and phrases, 60,000 translations ...Show more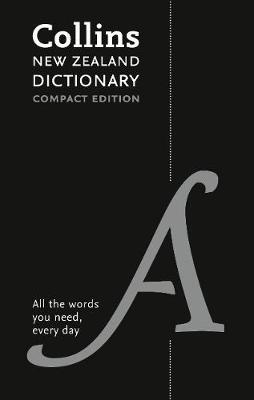 $40.00
NZD
Category: Dictionary
In colour, and packed with fascinating features on language, Collins New Zealand Compact Dictionary is the ideal handy reference for people who love language. With extended word histories, surprising folk etymologies, notes on words borrowed from other languages, and a fantastic supplement, this thought fully designed dictionary is large enough to include all the words and definitions you need, but small enough to hold in one hand. With a clear colour design and easy-to-use layout, browsing is easier than ever. All in all the perfect book for crossword solvers, word-game enthusiasts, and anyone with a passion for English. ...Show more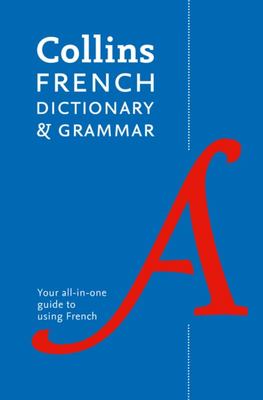 $33.00
NZD
Category: Dictionary | Series: Collins Dictionary and Grammar
An up-to-date dictionary and a user-friendly grammar guide in one handy volume. A clear layout, cultural notes and an easy-to-use grammar section make this the ideal book for intermediate learners. Designed for all intermediate learners of French, whether at school, at home, or for business. 96,000 refe rences and 136,000 translations will help those learning French take their language skills to the next level. * This edition has been revised and updated to offer extensive and relevant coverage of today's English and French, with thousands of phrases and examples guiding the user to the most appropriate translation. * A comprehensive grammar guide presents detailed examples and translations to help users to understand French grammar - the perfect complement to the dictionary. * The clear Collins typography gives the text a contemporary feel, and along with the new alphabet tabs, ensures that users find the information they need quickly and easily. ...Show more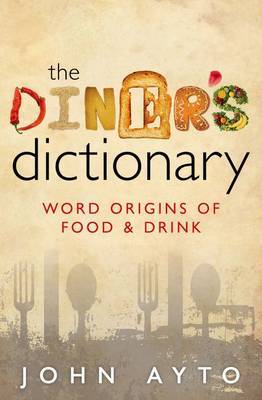 $35.00
NZD
Category: Dictionary
Did you know that 'croissant' literally means 'crescent' or that oranges are native to China? Do you realize that the word 'pie' has been around for seven hundred years in English or that 'toast' comes from the Latin word for 'scorch'? From absinthe to zabaglione, this lively guide presents the meaning and origin of over 2,300 food and drink terms. From basic ingredients to herbs, spices, and traditional dishes to more exotic products and delicacies, this book offers a feast of classic food and recipe terms as well as new additions to our gastronomic vocabulary over recent years such as Kobe beef, goji berry, latte, and wrap. Full of fascinating stories about some of our most popular foods and dishes as well as the more obscure, this is a delicious must-have for foodies and word buffs alike. ...Show more